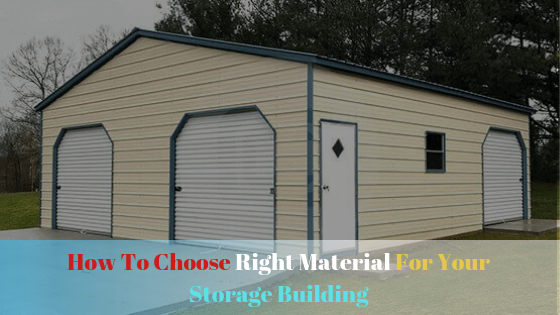 Having a wide array of materials available for storage buildings can confuse us in the right selection. In an attempt to choose reliable materials, there are some other factors that have to be considered. Whether you have decided for a metal garage, which is definitely a good option, or other material types, we are here to assist you in the right evaluation.
There are some major points that you have to focus on. For example, you can analyze and evaluate a particular type of shed. You can further distinguish on the basis of the least expensive and most expensive materials. Furthermore, for your storage building, you need to ask yourself the following points.
Material Varieties as per the Requirements
We are going to discuss a variety of material as per your needs and will discuss the best option among all. Further, we will discuss other essentials playing an important role in the right evaluation. Have a look below to gain insight.
Plastic: If you are looking for one of the most affordable options, then, it can be the one. The high-quality plastic is used for the construction. From tackling rotting to humidity, this option is great. The drawback is limited to this type of material. You can't find it visually appealing or considered it as an aesthetic option due to a limited number of styles. This is the main and most important drawback.
Vinyl: It is a durable and good option over plastic. Vinyl will not chip or rust easily. The limited number of style availability is a similar drawback related to this type of material.
Metal: Metals are the most common type of materials used. The numerous advantages associated with this material are making this a perfect choice for storage buildings. The metal is light-weight, easy to fix and affordable. The best part is that it does not require great maintenance, unlike other materials. It shows good resistivity to rust and other such conditions. Further, we don't require to paint it. Metal garage kits are also one of the cheapest options that one can opt for.
Wood: Wooden sheds are customizable but there are many drawbacks that have restricted its further use over metal. It requires great maintenance for survival, as wood is prone to pests and rots.
Reasons To Choose Metal Over Other Materials
Design
The design of storage structures also plays an important role in their utility. The style should match the style of your home. The design followed should be of the rustic pattern if the country-based home design is approached.
Price Comparison with Quality
Taking price as the only factor, while selecting any material, is not a good move. For example, if you are ordering metal garages online and you have chosen the cheapest alternative. Then ask to yourself, "Is it feasible to opt for the cheapest option without knowing the quality"? The answer is 'No'. Paying little more over the cheapest availability can help you to find out a durable and long-lasting option over other alternatives.
Style
There are varieties of styles available based on shapes and sizes, making it a perfect customizable option for versatile needs. For example, you can choose from a mini barn to A shape frames.

Where To Get The Best Metal Buildings
If you are looking for versatile solutions for storage buildings, then you can take the direct assistance from Cardinal Carports. We assure the best quality materials, multiple options for your requirements and cost-effective options. From prefabricated quality structures to RV shelters, we have everything for your needs. We assure free delivery and installation.