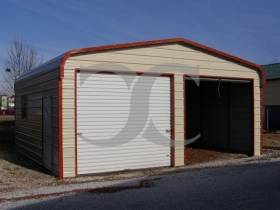 Roof garages are available in different designs – vertical-shaped to horizontal-shaped roofs. Design is not a mere factor but much more; an efficiently designed roof can have a number of benefits in terms of technical productivity and look too.
Before delving into different advantages of a vertical roof garage, try to understand actually what a vertical roof garage is. A flat roof with a steeper slope or side is also a good example of vertical roof garages. From a hip roof to gable roof, there are different varieties of roofs. Check out the following advantages of a vertical roof garage to gain better insight.
Advantages
Vertical roofs can be easily built within a short span of time, as, contractors don't have to think much of ridges, valleys, and surface meetings. It will not only give a neat look but help build within a limited time frame.
The vertical-shaped roof garage can be easily designed so it does not require skilled efforts of labors for building. All come within a budget and within a short span of time.
If you are looking for open-shaped garages, then, utility carports are one of the best options available. From aesthetic to utility, you can easily use carports for creative uses. Carports have also become part of solutions.
A flat roof can be a mess, especially during snowfall or rainy seasons. Stagnant water or snow not only settles down at the top of the roof but provide serious damage too. Vertical roofs help in shedding water and snow to roll down easily and without any mess. Water pooling can damage like leaks and damages. Therefore, shedding of water or snow will be the prime advantage in terms of quality.
Aesthetic Look for Modern Homes
Selecting a vertical roof will surely be the contemporary option for your modern home. If you are looking for a clean and minimalist look, you should definitely choose the vertical-designed roofs, as there are versatile solutions available for needs or requirements.
There are multiple options available for roofing, which not only enhance the look but utility too. Metallic roofing, clay tiles, rolled roofing, etc. The options are durable and require minimum maintenance. You will not have to think of your preferences, as personalized solutions are available to meet needs or requirements.
Metal RV shelters are also a good example that you can use for your vertical roof garage.
Better Sunlight Reflectivity
The inclined design of vertical roofs not only allows the incoming sunlight but provides reflectivity too, helping to maintain the optimum level of temperature in every type of condition. Skylights can be easily captured without many efforts.
Minimize the risk of Wind Currents
Areas prone to windy conditions can face loss. An efficiently-designed roof will minimize the effects of strong wind currents. If not designed well, strong winds can blow up roofs. Therefore, these factors must be considered while designing a roof in such regions.
It is a little difficult to replace the existing roofs, especially in the case of horizontal roofs. Vertical roof garages can easily be upgraded. Even, customized solutions will help you to easily expand your existing workspaces.
The advantages associated with vertical roof garages are ample to choose them as the preferred option for use or application. If you are looking for personalized solutions for your workplace, you can contact "Cardinal Carports". We offer versatile metal building solutions for your needs or requirements. From single carports to vertical roof carports, we have everything for your requirements.