Our boxed eave carports feature the mid-grade, A-Frame roof system. With trim on the sides as well as the ends, this unit has a nicer appearance as compared to the regular roof system. The welded transition from the roof to the legs is stronger than the bend on the regular roof system.  While we do offer this as a mid-grade options, for all metal carport shelters over 36' long, we only recommend the vertical roof carports, due to the fact that the longest panel that our crews can transport is 36' long.
Boxed Eave Carports feature:
14 or 12 Gauge tubular steel framing system
29 gauge steel panels
A-Frame Roof System
Horizontally Oriented Roof Panels
Trim on the Ends and Sides of the roof system
13 colors from which to choose
In most states, both non-certified and engineer certified units that meet wind and/or snow loads
Installation on ground, gravel, concrete, asphalt (site must be level)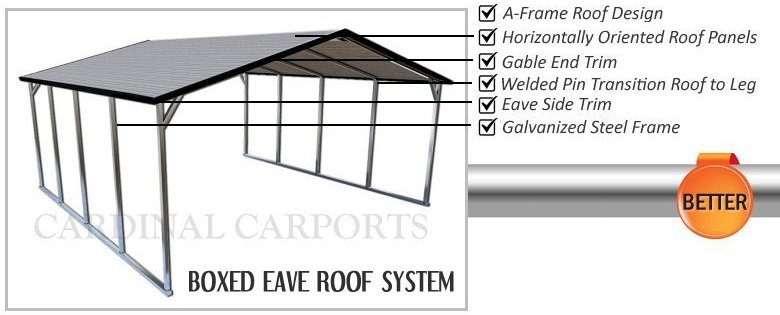 Our process for ordering boxed eave style carports is simple and straightforward. Whether you are making your purchase in the online store or working with one of our experienced Building Specialists, the process is the same. 
Once you have selected the carport that fits your needs, a small down payment is required to get your order started. For orders less than $1500.00, a down payment of 12% is required. For orders between $1500.00 and $3999.00, a down payment of 12% is required. For orders over $4000.00, a down payment of 15% is required. For very large and highly customized structures, a larger down payment may be required.
Payment Information
In order to expedite your order, we accept VISA, MasterCard, Discover, American Express, and PayPal. 

We can accept Personal Checks and Money Orders but expect those payment types to delay your order 5-10 days for the mail and for them to clear the bank.

For businesses and government entities, we can accept purchase orders upon credit approval.