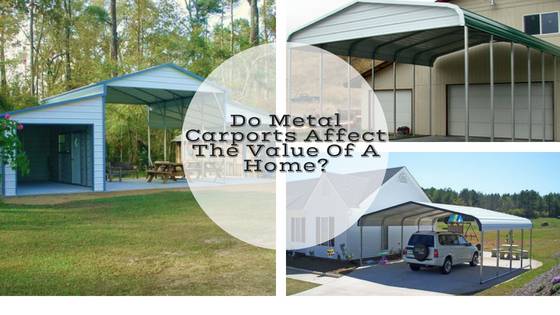 Carports are beneficial for the protection of vehicles when they aren't on the road. How do they affect the value of a home? Do metal carports help improve a property's value or they hurt it? These are some common queries of property owners while thinking of adding a carport with a storage room to their houses.
Garages or carports in a poor condition are not just dangerous for vehicles parked inside them but also for homeowners and people living near these sheds. These structures also hurt the value of a house. A metal carport or an enclosed garage made of steel is an ideal replacement for a damaged shed. It is a durable steel structure capable of staying powerful even in harsh weather conditions.
Now, the question is: Will it increase the value of a property or hurt it? It depends on how a homeowner chooses a metal carport and install it.
How To Get The Most Value From Carports?
Steel carports and garages are an economical addition to a house to protect vehicles from external threats. These structures can also increase the value of a property. Owners need to keep some important things in the mind while looking for a shed and installing it. Here are they:
Explore Well And Pick Supreme Quality Metal Carport
Although all metal carports are durable and flexible, not all of them match the requirements of every homeowner. Most of these metal structures are made either of steel or aluminum. When it is about stronger between the two metals, steel wins the battle. It is easy to install, maintain, and transport. Apart from that, steel garages effectively protect vehicles against heat, wind, rain, and the snow.
Choose The Right Location Of Carport
Although these steel structures can be installed as free-standing structures, it is beneficial to place them next to an existing structure like a house or a barn. It becomes easy to access the carport or use it as an entertainment area outside the house. Apart from that, owners can try different clever car hacks anytime to make their vehicles stay powerful for a long time.
Choose Carport Color That Matches The Home
Metal carports and flexible and versatile. Whether buyers are picking a regular carport or a vertical roof garage, they get an option of choosing the color of their shed as per their choice. An owner should choose a carport color that complements their homes. While choosing a shed, a buyer can go to a carport/garage color planner and pick color of the room, trim, and the wall to match them with other parts of their homes.
In the process of picking the right carport wall and trim, buyers forget to choose a base of the shed. It is necessary to know that base is an important part of a carport. It not just gives an attractive finished look to the structure but also gives improved usability. A concrete base is an ideal base solution for any carport.
Pay Attention To Carport Style
Considering the need, it is necessary to know whether a homeowner needs carport and shed combo, one-car, two-car, of three car carport with storage. Apart from that, a metal carport style should be chosen carefully for a seamless look. It is important to choose a roof style, carport size, and carport type carefully. Only the perfect metal shed can fulfill the requirements of a homeowner.
Make It Eco-friendly Carport
Unlike wooden garages, steel carports are easy to maintain and do not affect the Mother Nature. An owner can make them more eco-friendly and beneficial. Solar panels can be easily installed on the carport's roof. Apart from that, some effective solutions to collect rainwaters can also be applied to the roof.

Metal carports can add more value to a home. All homeowners need to do is pick them wisely and install them carefully. Cardinal Carports have all metal carport solutions to meet the demands of homeowners. Reach us now and get a carport that will surely improve the appeal of your place while protecting your vehicles from all external threats.