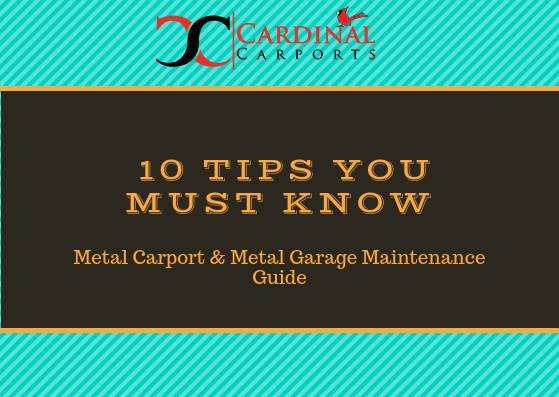 Garages and carports made of metal are a valuable addition to a home. Whether it's a regular style carport or an enclosed garage, your vehicles and other valuable equipment are safe inside it. Apart from that, metal carports and metal garages are cost-effective shelter solutions.
Steel shelters are easy to install and maintain. You still need to pay the attention to their maintenance. After a little care, they can stay effective for a long time. Here are 10 maintenance tips to take a very good care of your metal carport or garage:
Monitor The Foundation
Foundation is the vital part of any structure. Check the foundation of your carport/garage at least twice a year. Even if there are small cracks near the foundation, get rid of them as soon as possible. Cracks larger than ¼-inch can cause harm to the shed.
Inspect The Walls
Like the foundation, walls are also an important part of a metal garage or a metal carport. One of the biggest advantages of metal shelters is that you don't have to worry about the moisture in the wall. You should check for holes in the walls. Whether large or small, fix if there is a hole. Ensure there is nothing near the walls that can lead to rusting.
Clean The Roof
A roof experiences the most exposure. Even tiny holes can cause big damage to vehicles and machinery inside the structure. Inspect the roof at least thrice a year and check it before or after a season. If there are unnecessary items on the roof, then remove them.
Clean The Floor
While paying the attention to wall and roofs, many homeowners forget to maintain their garage's floor. You should clean the floor on a regular basis. Apart from that, replace the damaged slabs with the new ones.
Inspect And Clean The Doors
If you have a metal garage or a metal carport with storage space, then check and clean its doors. At least twice a year, check the interior doors and fix issues related to them. Ensure that the door seals are okay. Apart from that, make sure that the doors are weatherstripped.
Remove Unnecessary Items
It is necessary to keep your garage clean from inside. It will make the place look good and give you plenty of space to use for other purposes. If there are unnecessary items in your garage, then remove them. You can sell them to earn some money, which can be used to buy something interesting for your garage.
Observe For Rust

Metal garages and carports are safe from pest invasion, but rusting can be a serious problem for the steel structures. Observe your carport/shelter for rust after the end of a season. If you spot the problem, then fix it as soon as possible. Ignoring it can lead to a bigger problem in the future. It may also result in the need for a new steel garage.
Protect Against Water Damage
Steel structures are water and fire resistant. They remain useful for a long time. For that, you need to take care of your garage. Monitor your garage/carport after a rainfall to ensure that the water is not lodging near the walls. It can affect the foundation and may weaken it.
Insulate The Garage
It is extremely important in areas where the temperature keeps on changing at regular intervals. An insulated garage does not rust easily. Rusting is a result of condensation of moisture. As you need to avoid the rust to ensure that your garage remains useful for a long time, take essential measures to insulate the garage.
Mark Off Parking Zone
Extreme weather conditions are not the only threats to your metal carport & metal garage. Sometimes, you unintentionally damage your shed's structure while parking a vehicle inside it. You can eliminate the risks by marking off parking zone in the garage. You can use a colored electrical tape or a spray paint to mark off parking zone.

Conclusion
These are some effective and easy to implement methods to maintain your metal carport, metal RV shelters, and steel garages. If you are looking for a cost-effective and durable metal shed solutions in Texas or anywhere in the US, come to Cardinal Carports. Our carport prices in Texas are competitive. You will have free delivery and installation services.