Who We Are and What We Do
Cardinal Carports supplies the highest quality carports and shelters at the lowest possible price to most of the United States. With more than 15 years of experience in the business, we strive to provide the shelter that best provides a solution for you! Whether you are in need of a metal carport for cars or trucks, a RV carport for your RV, motorhome, or travel trailer, or a combo or utility carport that provides shelter as well as storage, we can customize a structure that's just right for you. All of our products feature FREE delivery and FREE installation on your level, unobstructed job site.
Our Carports
All of the carports that we provide are constructed of high grade steel. All of the roof panels are painted to provide a long-lasting finish, providing our customers with years of service. The framing system is tubular steel and has a galvanized finish. Out standard framing system is 2 1/2" x 2 1/2" 14 gauge square tube. We have an optional and heavier 12 gauge tube. All of our units 12' wide to 24' wide are equipped with peak braces and corner braces. Unlike many competing companies  that offer a 5' side height as their starting base price, we provide a minimum of 6' side height for the same price as their 5' tall car port. See just some of the features of our car ports below.

Type of Carports Provided
We can provide everything from basic carport shelters that are just the roof canopy only. We also provide options such as gable ends, side panels, and j-trims that provide additional protection from the elements while storing your vehicles. We can also provide taller carports for RVs, motorhomes and travel trailers and even carport shelters for equipment storage. We have side entry carports, carports with storage units built into them, and much more. Illustrated below are just a few of the types of structures that we provide.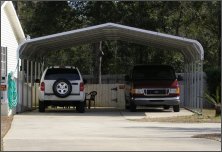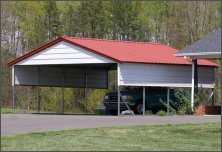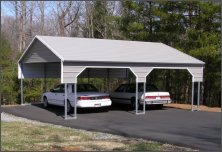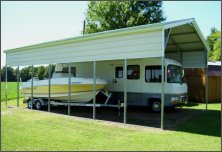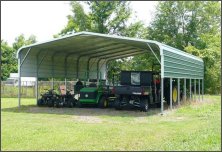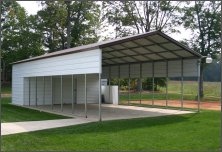 How the Process Works
Placing the order for you carport shelter is simple and easy. You can order one of the many units in our online store or, if you prefer, you can call our toll-free number and one of our knowledgeable representatives will assist you in selecting the right unit that best fits your budget and your needs. Once you've selected your carport, we will sent the order over for your review. You will review your order to ensure we have everything correct, then you will place small down payment, usually between 10-15% of the purchase price, to get your order started. At that point, your order will begin it's journey into the manufacturing process.
The manufacturing only takes a few short days but in order to delivery your unit, we fill truckloads completely before we schedule units for your delivery area. That keeps our freight costs lower, and ultimately, your price lower. Normal order to delivery times are between 2 and 4 weeks. During peak demand, order delivery times may be as long as 6-12 weeks. Please feel free to check with us to determine the actualy delivery periods during the time of your order. Delivery periods can change as often as weekly!
One week prior to installation, our representatives will call you to schedule an appointment for delivery. Most units are installed in just a few hours since your metal carport unit is pre-built at the factory. Once your unit is installed, the balance of your order can be paid with check, money order, or credit card. It's really that easy.
Give us a call today and we'll be happy to assist you in getting the right carport for you!
Save