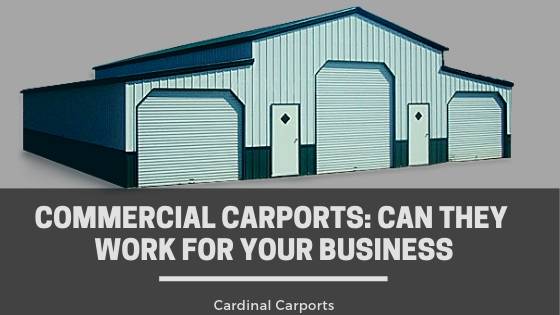 Carports, especially metal carports, are reliable vehicle shelter solutions in the modern world. They help protect vehicles of all kinds and benefit an owner is many other ways. You can build a carport and shed combo to park your vehicles effectively and store some important items outside the house.
You can easily find a carport outside a home. These days, numbers of commercial carports are also increasing. It is because metal carports come in many types and sizes. You can customize them as per your requirement and build a shelter that meets your demands. Apart from that, they are a cost-effective commercial parking solution than other shed solutions.

As per experts on cardinal metal buildings, carports can have more commercial uses than people could imagine. They make a reliable vehicle parking area and add lots of benefits to a commercial property. We have figured out some great uses of a metal carport for a business.


1. Increased Value
Gone are the days when carports or garages were just to park vehicles. In the 21st century, they have lots of creative uses. You can build a carport at a commercial space to increase the appeal and value of your property. It will not just occupy the property in the right way but also give you a parking place where your vehicles are secure. In addition to making it as big as you want, you can make interesting changes in the metal structure to match it with other parts of your business.


2. Affordable Parking Space
Whether you want a carport for cars or for big vehicles, you can build one at your place at cost-effective prices. It is because modern metal shelters are made of steel, which is an inexpensive material. You can easily build single car carport for one vehicle or look for RV shelters for sale to provide parking for big vehicles like trucks and recreational vehicles.


3. Possibility Of Solar Panels
Metal carports are durable and powerful shed solutions that stay effective in all weather conditions and for a long time. They come in different powerful roof types. You can use it as an opportunity to power your business. As metal carport roofs are stronger than other shed solutions, you can install solar panels to make your business more energy-efficient than ever. The number of panels can be decided considering your carport size and its roof type. In this way, you can have a parking shed for your vehicles and a secure place to install solar panels that will effectively provide energy to your business.


4. Variety Of Styles

Today, carports are available in many types. From the roof and size to the type, there are many kinds of commercial carports at cost-effective prices that you can install at your place and add a unique look to your business. To match the carport with other parts of your property, you can design it as per your choice and add a suitable color to it. In this way, you can get a parking space for your vehicles that is stylish and practical.


5. Low Maintenance
Metal carports are capable of working well in harsh weather conditions. You do not need to inspect them regularly and use special kinds of tools to ensure their maintenance. Even with minimum or low maintenance, you can reap their benefits. Commercial carports can keep your vehicles safe for a long time even when you are not using special tools to maintain them.


6. Fully-Engineered
Commercial carports are made of pre-fabricated metal structures that are easy to fix together at a construction site. Apart from that, you do not need to hire experienced individuals to join these pre-fabricated together. Only a few experienced experts can construct a huge commercial carport for your place. Apart from installation, they are easy to repair and relocate. Whenever required, you can make the necessary changes in the carport or relocate it to a new place.


Conclusion
Commercial carports made of metal are cost-effective and durable parking solutions that not just help in keeping vehicles safe against harmful weather conditions but also add an appealing look to a business. If you are planning to add a metal carport to your property, then Cardinal Carports can help you through its all kinds of metal carports. We have an extensive range of metal carports at cost-effective prices. In addition, we offer free installation and delivery services.